When your project calls for low initial cost and high energy-savings, the ESX LED area luminaire from Lithonia Lighting delivers.
Eight in-stock versions of the ESX1 provide the best combination of lumens, optics, color temperatures, voltages and mounting configurations for replacing 150W to 400W HID luminaires in a wide variety of applications.
---
Best Product
>70% energy savings with superior illumination when replacing HID
Best Price
Low initial cost ensures quick payback and long-term financial reward
Best Delivery
All ESX configurations are in stock at Acuity regional distribution centers
Adjustable Light Output (ALO) technology:
Internal bi-level switch offers two light levels for greater flexibility within one product.
---
ESX LED Advanced Refractive Optics
The ESX LED advanced refractive optics ensures there is no wasted light beneath, behind or between the poles.


---
Reversible Arm / Mounting:
All luminaires feature a reversible arm that allows for mounting on both round and square poles.
Lithonia Lighting® Area Lighting Offering
ESX LED Area Lighting Products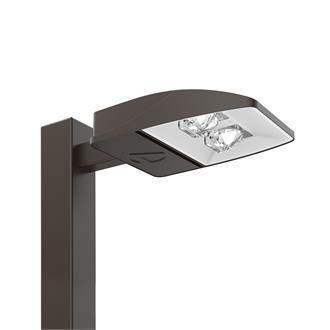 Most popular and readily available ESX LED area luminaire...
ESX LED Area Lighting Resources