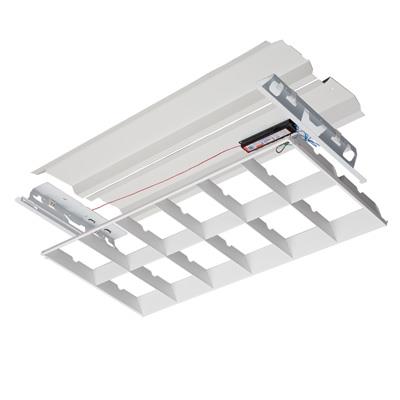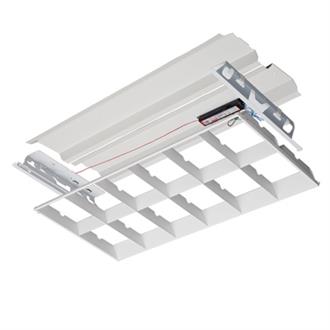 ES8RT
High Performance Relighting for Lensed Troffers
The ES8RT relight assembly is the ideal solution for renovating obsolete deep-lensed troffer systems when a one-for-one upgrade is desired. ES8RT louvered lighting systems provide exceptional efficiency and energy savings while providing even, glare-free lighting, higher vertical footcandles and reduced ceiling contrast for greater visual comfort. The ES8RT relight assembly is ideal for retail, educational, commercial and other general lighting applications.
The ES8RT delivers more balanced light levels vertically and horizontally while eliminating the "cave effect" produced by traditional parabolic fixtures and the glare associated with lensed troffers.
ES8RT provides substantial energy savings of up to 45% compared to a three-lamp T8 electronic ballast system and up to 56% savings compared to a three lamp ES magnetic system.
Relighting details (web site).
Construction
The ES8RT assembly consists of six primary components plus hardware. Universal end brackets containing the pre-wired ballast and sockets are constructed of 20-gauge powder-painted steel and are secured to the host fixture with provided TEK screws. A splice box is provided to enclose electrical connections, and a ballast disconnect plug system is provided as standard.
Splice box replaces the typical wireway by providing a cover for the connections of incoming supply wire and is attached to the host fixture with two TEK screws.
The reflector system uses a highly reflective white finish for optimum efficiency and attaches securely to the end brackets with quarter-turn fasteners.
Robust design, precision tooling and automated assembly combine to produce the industry's strongest louver. Trim kit to cover side reveals (if necessary) is provided as standard.
Optics
Mechanical optical shielding is provided with angled length blades and linear faceted cross baffles. A highly efficient reflector system directs the light downward. Lamp cut-outs maximize the shielding while minimizing overall assembly depth to provide consistent performance in any host fixture application. Vertical light levels are improved, providing a balanced amount of light across all surfaces while minimizing contrast and glare at the ceiling plane.
Electrical
Standard ballast is high-efficiency, CEE (Consortium for Energy Efficiency) qualified, instant start, <10% THD, universal voltage and sound rated A. Suggested lamps are high-lumen, long-life super T8 lamps which contribute to optimizing system performance. Optional program start and step-dim bi-level ballasts are available as well as several ballast factor options to maximize energy savings and to allow the amount of light to be balanced to the application.
Read More
Read Less
| | |
| --- | --- |
| Size | 2x2 |
| Shape | Rectangular |
| Light Source | Fluorescent |
| Product Type | Retrofit Kit |
| Regulatory Listing | UL |
| Fixture Wattage | 41 |
| Voltage Rating | 347 |
| Color | White |
| Mounting Type | Recessed |
| Series | 2ES8RT |
Suggested Replacement Products
PRODUCT INFORMATION
Spec Sheets

Photometry & Revit (BIM)

Use %(percent) to separate search terms.

Description
Report
Design Tools

{{photometryItem.Catalog}}
Report

Spectral Data Sheets

Guideline Specifications

Revit Component Files (Non-Illuminated)

Technical Documents (e.g. Instruction Sheets, MSDS, CAD)

Document Type
Document Title
Description
Updated

View

Accessories

EL Options

Emergency battery options explained for RT5R and ES8R

6/17/2014

View

Installation Instructions

ES8R instructions

ES8R Installation Instructions into Parabolic

6/17/2014

View

Technical Bulletins

Control Options

Bilevel control and dimming function with RT5R and ES8R

6/17/2014

View

Installation Instructions

RT5R instructions

(Discontinued)

RT5R Installation Instructions

6/17/2014

View

Installation Instructions

RT8RT_RT5RT_Installation_Instructions

(Discontinued)

RT8RT RT5RT Installation Instructions

6/17/2014

View

Installation Instructions

2RTLEDR_Installation_Instructions

(Archived)

2RTLDR Installation Instructions into Lithonia Troffer

6/17/2014

View

Utility Rebate Search

Replacement Parts

Confidential Documents

Marketing Material (e.g. Brochures, Sell Sheets, FAQs, )

Need Product Assistance? (e.g. How to Buy, Technical Support, Warranty)

How to Buy

Acuity Brands lighting and controls products are primarily sold through a network of agents and distributors across North America,
as well as at more than 100 showroom or international locations and several online retailers.

---

Technical Support

Acuity Brands is dedicated to providing outstanding technical support. Please click on the appropriate link below, or feel free to
call us at 1.800.705.SERV (7378).

• FAQs

• Contact Us (Lighting Fixtures)

• Contact Us (Controls Services & Support)

---

Warranty
Is the new stocked product detail helpful? Please tell us what you think, CLICK HERE.

SKU data not available, please contact your local agent.

{{getMinimumDisplayedIndex()}} - {{getMaximumDisplayedIndex()}} of {{filteredStockedProducts.length}} results

(No Products Found)

{{result.Title}}

{{result.Title}}

{{result.Description}}

Quantity

{{(result.Quantity > 0) ? result.Quantity : 0}} in {{result.Location.substring(result.Location.indexOf("(")+1, result.Location.indexOf(")"))}}

Total at all DCs:

{{result.EnterpriseAvailability}}

Distr. Price

${{result.Price | number : 2}}

Distr. Price

Contact Acuity

Distr. Price

No pricing established

No Locations Could Be Found.

This catalog # is not available at any location at this time. Inventory is replenished daily, please check back or contact your local sales representative or agency further details.

Your session has expired. Click on the login link to view stocked product information.

Login/Register

Product information is not available at this time. Please try again later.

Available
Est. Ship Date
Location
In Transit
{{loc.QUANTITY > 0 ? loc.QUANTITY : 0}}
{{loc.ESTIMATED_SHIP_DATE}}
{{loc.LOCATION}}
{{loc.IN_TRANSIT_QUANTITY}}

Restocking date is unavailable at this time.
Location Est. Restocking Qty & Date
{{transitDetail.QUANTITY > 0 ? transitDetail.QUANTITY : 0}}

{{transitDetail.ARRIVAL_DATE ? transitDetail.ARRIVAL_DATE : "Date Not Provided"}}

Available

{{loc.QUANTITY > 0 ? loc.QUANTITY : 0}}

Est. Ship Date

{{loc.ESTIMATED_SHIP_DATE}}

Location

{{loc.LOCATION}}

In Transit

{{loc.IN_TRANSIT_QUANTITY}}

Restocking date is unavailable at this time.

Location Est. Restocking Qty & Date

{{transitDetail.QUANTITY > 0 ? transitDetail.QUANTITY : 0}}

{{transitDetail.ARRIVAL_DATE ? transitDetail.ARRIVAL_DATE : "Date Not Provided"}}

View All

View Less
Other People Have Also Viewed