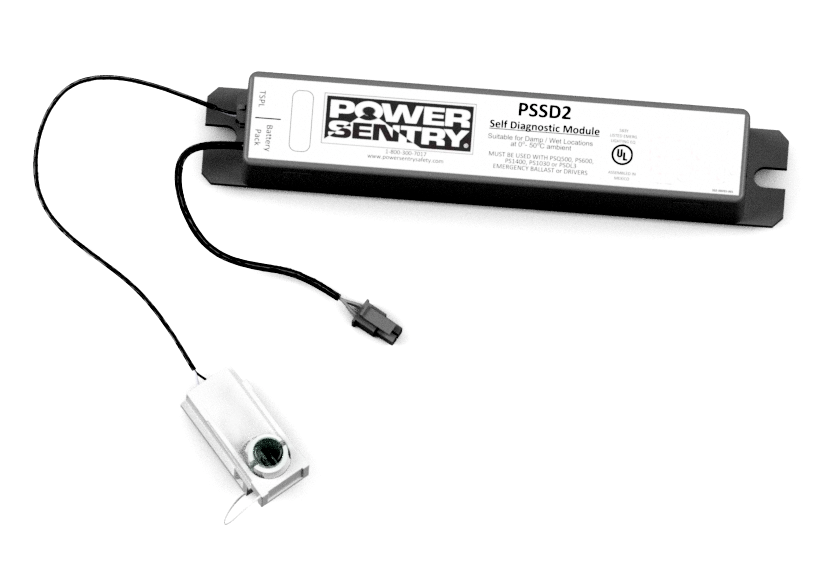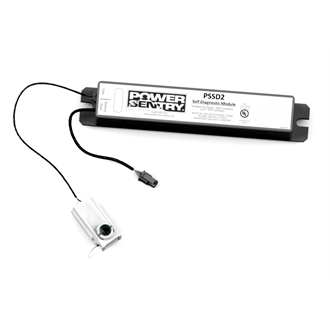 PSSD2
Self-diagnostics Module.
Discontinued
By Power Sentry
This product has been discontinued. Please see the suggested products below or contact your local sales representative.
Suggested Replacements:
The PSSD2 module is incorporated with a Power Sentry emergency ballast or driver to enable self-diagnostic functionality. The suggested replacement products for the PSSD2 include the following emergency fluorescent ballasts and emergency LED drivers with self-diagnostic functionality built-in.
For PSSD2 modules with...
Suggested Replacement
LED Applications
PS730, PS730L, PS750, PS750L, or PS750DL
IOTA ILB CP10 HE SD Emergency LED Driver
IOTA ILBLP CP10 HE SD Emergency LED Driver
PS1030, PS1050, or PS1050DL
IOTA ILB CP10 HE SD Emergency LED Driver
IOTA ILBLP CP10 HE SD Emergency LED Driver
Fluorescent Applications
PSQ500QD, PS600QD, PS600DW, PS1400QD, PS1400DW, or PSDL3
IOTA ISD420 Emergency Ballast
IOTA ISD80 Emergency Ballast
Read More
Read Less
| | |
| --- | --- |
| Voltage Rating | Not Applicable |
| Regulatory Listing | NFPA 101, UL |
| Product Type | Battery Pack |
| Series | FIDO, PS1400DW, PS600DW, PSSD2, PS1030, PSDL3 |
Suggested Replacement Products
PRODUCT INFORMATION
Spec Sheets

| Document Type | Document Title | Description | Updated | View | | |
| --- | --- | --- | --- | --- | --- | --- |
| SPEC SHEET | ELA-PSMK-PSMKSD-PSDMT-PSRME.pdf | Emergency Driver Accessories (Remote mounting kit; Mounting Tray; Remote mounting enclosure) | 2/2/2021 | View | | |
| SPEC SHEET | Self-Diagnostic Module | Self-Diagnostic module for Emergency Ballast/Driver | 8/22/2017 | View | | |

Photometry & Revit (BIM)

Spectral Data Sheets

Guideline Specifications

Revit Component Files (Non-Illuminated)

Technical Documents (e.g. Instruction Sheets, MSDS, CAD)

| Document Type | Document Title | Description | Updated | View | | |
| --- | --- | --- | --- | --- | --- | --- |
| Installation Instructions | EMCSA00839, Rev A -PSSD2 Installation Instructions.pdf | PSSD2 instruction sheet | 9/12/2022 | View | | |

Utility Rebate Search

Replacement Parts

Confidential Documents

Marketing Material (e.g. Brochures, Sell Sheets, FAQs, )

Need Product Assistance? (e.g. How to Buy, Technical Support, Warranty)
VIEW STOCKED PRODUCTS
Is the new stocked product detail helpful? Please tell us what you think, CLICK HERE.

SKU data not available, please contact your local agent.

{{getMinimumDisplayedIndex()}} - {{getMaximumDisplayedIndex()}} of {{filteredStockedProducts.length}} results

(No Products Found)

{{result.Title}}

{{result.Title}}

{{result.Description}}

Quantity

{{(result.Quantity > 0) ? result.Quantity : 0}} in {{result.Location.substring(result.Location.indexOf("(")+1, result.Location.indexOf(")"))}}

Total at all DCs:

{{result.EnterpriseAvailability}}

Distr. Price

${{result.Price | number : 2}}

Distr. Price

Contact Acuity

Distr. Price

No pricing established

No Locations Could Be Found.

This catalog # is not available at any location at this time. Inventory is replenished daily, please check back or contact your local sales representative or agency further details.

Your session has expired. Click on the login link to view stocked product information.

Login/Register

Product information is not available at this time. Please try again later.

Available
Est. Ship Date
Location
In Transit
{{loc.QUANTITY > 0 ? loc.QUANTITY : 0}}
{{loc.ESTIMATED_SHIP_DATE}}
{{loc.LOCATION}}
{{loc.IN_TRANSIT_QUANTITY}}

Restocking date is unavailable at this time.
Location Est. Restocking Qty & Date
{{transitDetail.QUANTITY > 0 ? transitDetail.QUANTITY : 0}}

{{transitDetail.ARRIVAL_DATE ? transitDetail.ARRIVAL_DATE : "Date Not Provided"}}

Available

{{loc.QUANTITY > 0 ? loc.QUANTITY : 0}}

Est. Ship Date

{{loc.ESTIMATED_SHIP_DATE}}

Location

{{loc.LOCATION}}

In Transit

{{loc.IN_TRANSIT_QUANTITY}}

Restocking date is unavailable at this time.

Location Est. Restocking Qty & Date

{{transitDetail.QUANTITY > 0 ? transitDetail.QUANTITY : 0}}

{{transitDetail.ARRIVAL_DATE ? transitDetail.ARRIVAL_DATE : "Date Not Provided"}}

View All

View Less
Other People Have Also Viewed