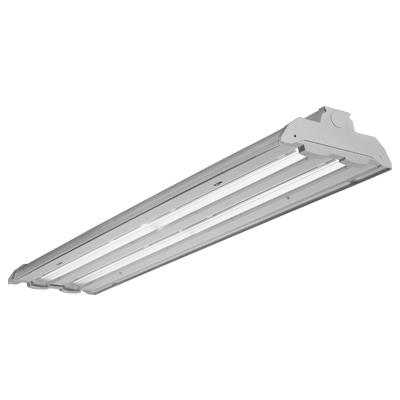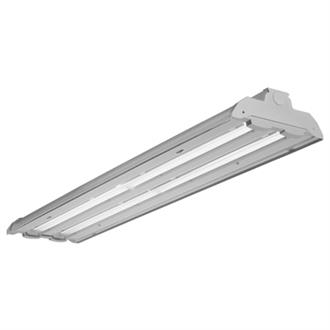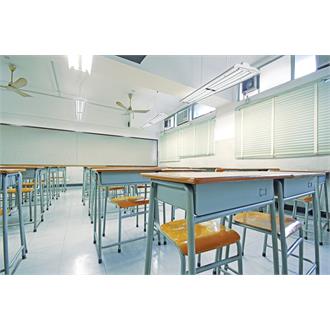 MSL
MS Series LED Luminaire
The MS Series LED is a linear solution ideal for open-ceiling or suspended applications with mounting heights from 14 to 20 feet. Available as a complete luminaire, based on the time-tested MS housing, the traditional fixture design offers time-saving installation options making it a favorite for contractors. It can be mounted in a continuous row or as a stand-alone unit. Its full-body construction and multiple mounting options adapt to a wide variety of suspended and open-ceiling applications.
Construction
The full-body housing and optical assembly is precision-formed using 20-gauge steel. The optical assembly ships factory-installed into the housing and utilizes aircraft cable tethers to support the optical assembly during wiring. The lensing integrates seamlessly into the optical housing to provide a sealed chamber to mitigate dust and insect collection. A convenient access plate is located on the back of the channel for access to the wiring compartment. Finish: High-gloss, baked white enamel finish. Five-stage iron phosphate pretreatment ensures superior paint adhesion and rust resistance.
Optics
Optical design distributes the light in the 0-60 deg. zone, which provides better utilization of light on task. Each linear bar is outfitted with premium, anodized MIRO 5® aluminum to ensure the highest lumens per watt can be achieved. A diffuse acrylic lens eliminates the pixels to minimize glare and improve uniformity.
Electrical
The MSL luminaire has 83% lumen maintenance at 60,000 hours with an expected life of greater than 100,000 hours. The MSL ships standard with a thermally protected dimming driver that dims down to 5% using 0-10V controls. Please refer to http://www.synergylightingcontrols.com/ProductBrochures.aspx for dimming solutions. You may also contact the Synergy Support at 800-533-2719 or Support@SynergyLightingControls.com. LEDs are driven to provide optimal lumens per watt and less heat to extend component life. The driver and optical housing are connected with mating plug for easy removal or future upgrade. Optional 12AWG through-wire harnesses is available for continuous-row installations.
Installation
A variety of mounting arrangements are available including tong hangers, aircraft cables and stems. Suitable for mounting in continuous-row or individual mounting. End caps include knockouts for through wiring and fixture attachment in row-mounting applications.
Other
Five-year limited warranty. Full warranty terms located at www.acuitybrands.com/CustomerResources/Terms_and_conditions.aspx
Read More
Read Less

View Product Availability
| | |
| --- | --- |
| Shape | Rectangular |
| Light Source | LED - Static |
| Lumens | 4000 LM, 5250 LM, 7000 LM, 8000 LM, 10,000 LM, 12,000 LM, 16,000 LM, 20,000 LM |
| CCT / LED Color | 3000 K, 3200 K, 3500 K, 4000 K, 5000 K |
| CRI | 80, 90 |
| Product Type | Low Bay |
| Compliance Listing | BAA, CA Title 20, DLC Standard |
| Environmental Listing | Dry Location |
| Regulatory Listing | CSA, UL |
| Dimming Protocol | 0-10V |
| Fixture Wattage | 149, 181, 52, 58 |
| Voltage Rating | 120, 120-277, 277, 347, 347-480, 480 |
| Color | Black, White |
| Mounting Type | Not Applicable, Suspended |
| Series | TMSL, MSL, RK2MSL, RK1MSL |
Read More Read Less
Suggested Replacement Products
PRODUCT INFORMATION
Spec Sheets

| Document Type | Document Title | Description | Updated | View | | |
| --- | --- | --- | --- | --- | --- | --- |
| SPEC SHEET | MSL Specsheet | MS Series LED Full Luminaire | 7/6/2023 | View | | |
| SPEC SHEET | To be printed with all products containing acrylic material | To be printed with all products containing acrylic material | 7/26/2011 | View | | |

---

Photometry & Revit (BIM)

Use %(percent) to separate search terms.

Description
Report
Design Tools

{{photometryItem.Catalog}}
Report

Spectral Data Sheets

Guideline Specifications

Revit Component Files (Non-Illuminated)

Technical Documents (e.g. Instruction Sheets, MSDS, CAD)

| Document Type | Document Title | Description | Updated | View | | |
| --- | --- | --- | --- | --- | --- | --- |
| Accessories | HC36.pdf | MS Series LED Low Bay Luminaire – HC36 Accessories | 9/28/2018 | View | | |
| Accessories | SQ SPEC.pdf | MS Series LED Low Bay Luminaire – SQ Accessories | 5/23/2018 | View | | |
| Accessories | THMS5HB.pdf | MS Series LED Low Bay Luminaire – THMS5HB Accessories | 5/23/2018 | View | | |
| Acrylic Compatibility | Acrylic-Polycarbonate-Compatibility | Acrylic Compatibility Information | 9/24/2018 | View | | |
| Installation Instructions | MSL_Installation_Sheet | MSL_TMSL LED Installation Instructions | 5/10/2023 | View | | |
| Installation Instructions | THMS5HB - Installation Instructions.pdf | Tong hanger installation instructions THMS5HB | 5/23/2018 | View | | |

Utility Rebate Search

To look-up a rebate for this product, please follow the steps below:

Step 1: Enter the Zip Code or Select the State and Utility

Step 2

:

Ensure that the correct Product Category is selected if there is more than one option




Replacement Parts

| Document Type | Document Title | Description | Updated | View | | |
| --- | --- | --- | --- | --- | --- | --- |
| Replacement Part Spec Sheet | MSL Replacement Parts_092820.pdf | Drivers, Boards, Etc. | 4/29/2021 | View | | |

Confidential Documents

Marketing Material (e.g. Brochures, Sell Sheets, FAQs, )

Need Product Assistance? (e.g. How to Buy, Technical Support, Warranty)

How to Buy

Acuity Brands lighting and controls products are primarily sold through a network of agents and distributors across North America,
as well as at more than 100 showroom or international locations and several online retailers.

---

Technical Support

Acuity Brands is dedicated to providing outstanding technical support. Please click on the appropriate link below, or feel free to
call us at 1.800.705.SERV (7378).

• FAQs

• Contact Us (Lighting Fixtures)

• Contact Us (Controls Services & Support)

---

Warranty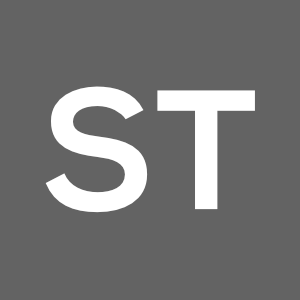 View Stocked Products
Is the new stocked product detail helpful? Please tell us what you think, CLICK HERE.

SKU data not available, please contact your local agent.

{{getMinimumDisplayedIndex()}} - {{getMaximumDisplayedIndex()}} of {{filteredStockedProducts.length}} results

(No Products Found)

{{result.Title}}

{{result.Title}}

{{result.Description}}

Quantity

{{(result.Quantity > 0) ? result.Quantity : 0}} in {{result.Location.substring(result.Location.indexOf("(")+1, result.Location.indexOf(")"))}}

Total at all DCs:

{{result.EnterpriseAvailability}}

Distr. Price

${{result.Price | number : 2}}

Distr. Price

Contact Acuity

Distr. Price

No pricing established

No Locations Could Be Found.

This catalog # is not available at any location at this time. Inventory is replenished daily, please check back or contact your local sales representative or agency further details.

Your session has expired. Click on the login link to view stocked product information.

Login/Register

Product information is not available at this time. Please try again later.

Available
Est. Ship Date
Location
In Transit
{{loc.QUANTITY > 0 ? loc.QUANTITY : 0}}
{{loc.ESTIMATED_SHIP_DATE}}
{{loc.LOCATION}}
{{loc.IN_TRANSIT_QUANTITY}}

Restocking date is unavailable at this time.
Location Est. Restocking Qty & Date
{{transitDetail.QUANTITY > 0 ? transitDetail.QUANTITY : 0}}

{{transitDetail.ARRIVAL_DATE ? transitDetail.ARRIVAL_DATE : "Date Not Provided"}}

Available

{{loc.QUANTITY > 0 ? loc.QUANTITY : 0}}

Est. Ship Date

{{loc.ESTIMATED_SHIP_DATE}}

Location

{{loc.LOCATION}}

In Transit

{{loc.IN_TRANSIT_QUANTITY}}

Restocking date is unavailable at this time.

Location Est. Restocking Qty & Date

{{transitDetail.QUANTITY > 0 ? transitDetail.QUANTITY : 0}}

{{transitDetail.ARRIVAL_DATE ? transitDetail.ARRIVAL_DATE : "Date Not Provided"}}

View All

View Less

Build Cat. # / Submittal Spec Sheet
Start Configurating a Product
Other People Have Also Viewed