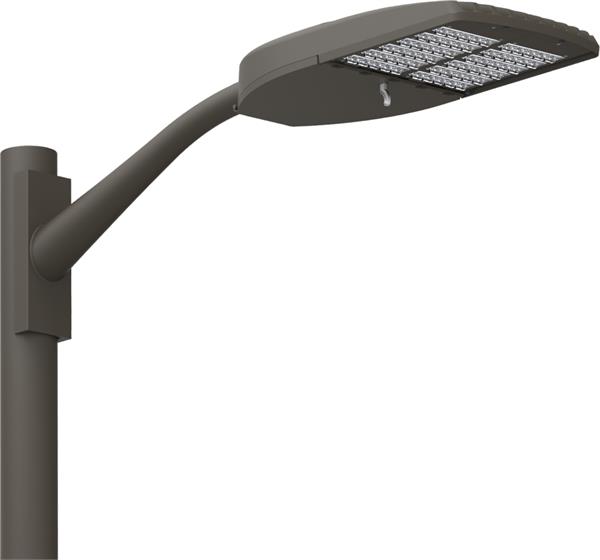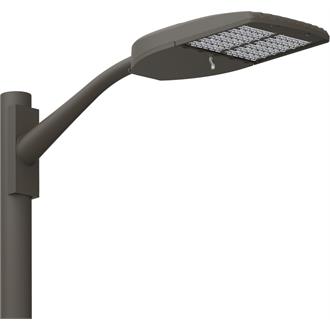 D-Series MA Area Size 1
DSX1 Mast Arm LED Area Luminaire
The sleek design of the D-Series Size 1 reflects the embedded high performance LED technology. It is ideal for many commercial and municipal applications, such as parking lots, plazas, campuses, and streetscapes.
Construction
Single-piece die-cast aluminum housing has integral heat sink fins to optimize thermal management through conductive and convective cooling. Modular design allows for ease of maintenance and future light engine upgrades. The LED driver is mounted in direct contact with the casting to promote low operating temperature and long life. Low EPA (0.9 ft2) for optimized pole wind loading.
Finish
Exterior parts are protected by a zinc-infused Super Durable TGIC thermoset powder coat finish that provides superior resistance to corrosion and weathering. A tightly controlled multi-stage process ensures a minimum 3 mils thickness for a finish that can withstand extreme climate changes without cracking or peeling. Available in both textured and non-textured finishes.
Optics
Precision-molded proprietary acrylic lenses are engineered for superior area lighting distribution, uniformity, and pole spacing. Light engines are available in 3000K (80 CRI), 4000K (67 CRI) or 5000K (67 CRI) configurations. The D-Series Size 1 has zero uplight and qualifies as a Nighttime FriendlyTM product, meaning it is consistent with the LEED® and Green GlobesTM criteria for eliminating wasteful uplight.
Electrical
Light engine(s) consist of 30 high-efficacy LEDs mounted to a metal-core circuit board to maximize heat dissipation and promote long life (100,000 hrs at 40°C, L87). Class 1 electronic driver has a power factor >90%, THD <20%, and has an expected life of 100,000 hours with <1% failure rate. Easily-serviceable surge protection device meets a minimum Category C Low operation (per ANSI/IEEE C62.41.2).
Installation
Four-bolt mast arm mount provides easy, secure installation for nominal 1-1/4" to 2"diameter arms (1-5/8" to 2-3/8" O.D.) and enables the D-Series Size 1 to withstand up to a 3.0 G vibration load rating per ANSI C136.31. Housing includes cast-in wildlife shield and tool-less "lift and turn" NEMA photocontrol receptacle. Die-cast trigger latch on door provides tool-less entry for easy and secure opening with one hand; top-side leveling crosshairs and internal bubble level assist with installation.
Other: Note: Specifications subject to change without notice.
Read More
Read Less
| | |
| --- | --- |
| Shape | Rectangular |
| Light Source | LED - Static |
| Lumens | 4000 LM, 5000 LM, 6000 LM, 7000 LM, 8000 LM, 9000 LM, 10,000 LM, 11,000 LM, 12,000 LM, 13,000 LM, 14,000 LM, 15,000 LM, 16,000 LM, 17,000 LM, 18,000 LM, 19,000 LM, 20,000 LM, 21,000 LM, 22,000 LM, 23,000 LM, 24,000 LM, 25,000 LM, 26,000 LM, 27,000 LM, 28,000 LM, 29,000 LM |
| CCT / LED Color | 3000 K, 4000 K, 5000 K |
| CRI | 70 |
| Product Type | Area Light |
| Compliance Listing | Nighttime Friendly |
| Regulatory Listing | UL |
| Dimming Protocol | 0-10V |
| Fixture Wattage | 105, 131, 138, 209, 68, 89 |
| Voltage Rating | 120-277 |
| Color | Black, Bronze, Silver, White |
| Mounting Type | Pole Mount |
| Series | DSX1 |
Read More Read Less
Suggested Replacement Products
PRODUCT INFORMATION
Spec Sheets

| Document Type | Document Title | Description | Updated | View | | |
| --- | --- | --- | --- | --- | --- | --- |
| SPEC SHEET | D-Series Mast Arm Mount LED Area Luminaire, Size 1 | D-Series Mast Arm Mount LED Area Luminaire, Size 1 | 11/22/2022 | View | | |

Photometry & Revit (BIM)

Use %(percent) to separate search terms.

Description
Report
Design Tools

{{photometryItem.Catalog}}
Report

Spectral Data Sheets

Guideline Specifications

Revit Component Files (Non-Illuminated)

Technical Documents (e.g. Instruction Sheets, MSDS, CAD)

Utility Rebate Search

Replacement Parts

Confidential Documents

Marketing Material (e.g. Brochures, Sell Sheets, FAQs, )

Need Product Assistance? (e.g. How to Buy, Technical Support, Warranty)

How to Buy

Acuity Brands lighting and controls products are primarily sold through a network of agents and distributors across North America,
as well as at more than 100 showroom or international locations and several online retailers.

---

Technical Support

Acuity Brands is dedicated to providing outstanding technical support. Please click on the appropriate link below, or feel free to
call us at 1.800.705.SERV (7378).

• FAQs

• Contact Us (Lighting Fixtures)

• Contact Us (Controls Services & Support)

---

Warranty
Is the new stocked product detail helpful? Please tell us what you think, CLICK HERE.

SKU data not available, please contact your local agent.

{{getMinimumDisplayedIndex()}} - {{getMaximumDisplayedIndex()}} of {{filteredStockedProducts.length}} results

(No Products Found)

{{result.Title}}

{{result.Title}}

{{result.Description}}

Quantity

{{(result.Quantity > 0) ? result.Quantity : 0}} in {{result.Location.substring(result.Location.indexOf("(")+1, result.Location.indexOf(")"))}}

Total at all DCs:

{{result.EnterpriseAvailability}}

Distr. Price

${{result.Price | number : 2}}

Distr. Price

Contact Acuity

Distr. Price

No pricing established

No Locations Could Be Found.

This catalog # is not available at any location at this time. Inventory is replenished daily, please check back or contact your local sales representative or agency further details.

Your session has expired. Click on the login link to view stocked product information.

Login/Register

Product information is not available at this time. Please try again later.

Available
Est. Ship Date
Location
In Transit
{{loc.QUANTITY > 0 ? loc.QUANTITY : 0}}
{{loc.ESTIMATED_SHIP_DATE}}
{{loc.LOCATION}}
{{loc.IN_TRANSIT_QUANTITY}}

Restocking date is unavailable at this time.
Location Est. Restocking Qty & Date
{{transitDetail.QUANTITY > 0 ? transitDetail.QUANTITY : 0}}

{{transitDetail.ARRIVAL_DATE ? transitDetail.ARRIVAL_DATE : "Date Not Provided"}}

Available

{{loc.QUANTITY > 0 ? loc.QUANTITY : 0}}

Est. Ship Date

{{loc.ESTIMATED_SHIP_DATE}}

Location

{{loc.LOCATION}}

In Transit

{{loc.IN_TRANSIT_QUANTITY}}

Restocking date is unavailable at this time.

Location Est. Restocking Qty & Date

{{transitDetail.QUANTITY > 0 ? transitDetail.QUANTITY : 0}}

{{transitDetail.ARRIVAL_DATE ? transitDetail.ARRIVAL_DATE : "Date Not Provided"}}

View All

View Less

Build Cat. # / Submittal Spec Sheet
Start Configurating a Product
Other People Have Also Viewed