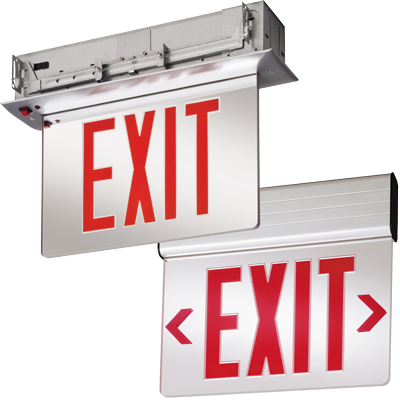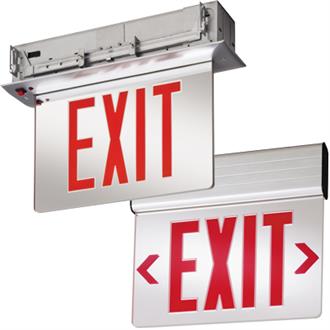 EDG-NY
Edge-Lit Exit with LED Lamps, Surface and Recessed Mount, New York City Approved
Ideal for New York applications where 8" letter height is required with attractive edge-lit exit signage.
Dual voltage input capacity (120/277V)
Sealed maintenance free nickel cadmium battery that delivers 90 minutes capacity to lamp (EL option)
Universal directional indicators.
EDGNY - Universal (top, end or back) mounting.
EDGNRY - Recessed top mounting only.
Five-year limited warranty. Complete warranty terms located at Customer Resources: Terms and Conditions.
Read More
Read Less
| | |
| --- | --- |
| Shape | Not Applicable |
| Light Source | LED - Static |
| Lumens | Not Applicable |
| Product Type | Emergency Exit Sign |
| Compliance Listing | CA Title 20 |
| Regulatory Listing | NFPA 101, UL |
| Fixture Wattage | 3 |
| Voltage Rating | 120, 277 |
| Color | White |
| Mounting Type | Recessed, Surface |
| Series | EDGNY, EDGRNY |
Read More Read Less
Suggested Replacement Products
PRODUCT INFORMATION
Spec Sheets

Photometry & Revit (BIM)

Use %(percent) to separate search terms.

Description
Report
Design Tools

{{photometryItem.Catalog}}
Report

Spectral Data Sheets

Guideline Specifications

Revit Component Files (Non-Illuminated)

Technical Documents (e.g. Instruction Sheets, MSDS, CAD)

| Document Type | Document Title | Description | Updated | View | | |
| --- | --- | --- | --- | --- | --- | --- |
| Installation Instructions | EMCSA00808 Rev E.pdf | EDGR & EDGRNY New York, Recessed Installation instruction sheet, Rev E (Rev 11/2020) | 7/8/2021 | View | | |
| Installation Instructions | EMCSA00808_D | EDGR & EDGRNY New York, Recessed Installation instruction sheet, Rev D (Rev 2.11.19) | 2/11/2019 | View | | |
| Installation Instructions | EMCSA00907_B | EDG & EDG-NY (surface mount) - Installation instruction sheet- Emergency, non-Emergency, X2 (2.7.17) | 8/23/2017 | View | | |
| Material Safety Data Sheet | 2015 SGS RoHS Test Report.PDF | RoHS Test Report for Brushed Aluminum Paint Color (EDG-EDGR, EDGNY-EDGRNY, EDGC) | 6/11/2018 | View | | |
| Material Safety Data Sheet | Edge Lit Brushed Aluminum.pdf | MSDS Paint Color for Brushed Aluminum (EDG-EDGR, EDGNY-EDGRNY, EDGC) | 6/13/2018 | View | | |
| Material Safety Data Sheet | Topa Ni-Cd.pdf | SDS: EX_LED, ECB_LED, LXNY, LXC, LQC, WLTE, TLE, EDG, EDGR, EDGNY, WLTU LED, EU2L, ECC, EU2 LED, N1L | 5/16/2018 | View | | |

Utility Rebate Search

Replacement Parts

Confidential Documents

Marketing Material (e.g. Brochures, Sell Sheets, FAQs, )

Need Product Assistance? (e.g. How to Buy, Technical Support, Warranty)
VIEW STOCKED PRODUCTS
Is the new stocked product detail helpful? Please tell us what you think, CLICK HERE.

SKU data not available, please contact your local agent.

{{getMinimumDisplayedIndex()}} - {{getMaximumDisplayedIndex()}} of {{filteredStockedProducts.length}} results

(No Products Found)

{{result.Title}}

{{result.Title}}

{{result.Description}}

Quantity

{{(result.Quantity > 0) ? result.Quantity : 0}} in {{result.Location.substring(result.Location.indexOf("(")+1, result.Location.indexOf(")"))}}

Total at all DCs:

{{result.EnterpriseAvailability}}

Distr. Price

${{result.Price | number : 2}}

Distr. Price

Contact Acuity

Distr. Price

No pricing established

No Locations Could Be Found.

This catalog # is not available at any location at this time. Inventory is replenished daily, please check back or contact your local sales representative or agency further details.

Your session has expired. Click on the login link to view stocked product information.

Login/Register

Product information is not available at this time. Please try again later.

Available
Est. Ship Date
Location
In Transit
{{loc.QUANTITY > 0 ? loc.QUANTITY : 0}}
{{loc.ESTIMATED_SHIP_DATE}}
{{loc.LOCATION}}
{{loc.IN_TRANSIT_QUANTITY}}

Restocking date is unavailable at this time.
Location Est. Restocking Qty & Date
{{transitDetail.QUANTITY > 0 ? transitDetail.QUANTITY : 0}}

{{transitDetail.ARRIVAL_DATE ? transitDetail.ARRIVAL_DATE : "Date Not Provided"}}

Available

{{loc.QUANTITY > 0 ? loc.QUANTITY : 0}}

Est. Ship Date

{{loc.ESTIMATED_SHIP_DATE}}

Location

{{loc.LOCATION}}

In Transit

{{loc.IN_TRANSIT_QUANTITY}}

Restocking date is unavailable at this time.

Location Est. Restocking Qty & Date

{{transitDetail.QUANTITY > 0 ? transitDetail.QUANTITY : 0}}

{{transitDetail.ARRIVAL_DATE ? transitDetail.ARRIVAL_DATE : "Date Not Provided"}}

View All

View Less
Other People Have Also Viewed